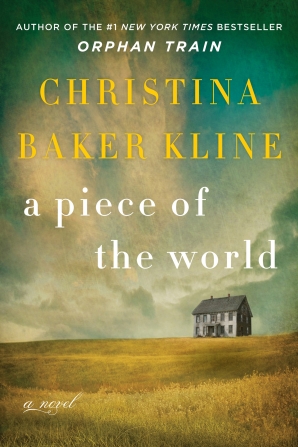 Christina Baker Kline scored great success with her novel ORPHAN TRAIN, and I eagerly tackled that title when our book club chose it for a monthly discussion. Without being to articulate exactly why, I felt slightly disappointed in the story. Perhaps I had hoped for a broader scoped novel, one which delved more into the organizations and people behind the orphan trains. But while I might have felt let down with the plot, I recognized Baker-Kline's writing style flowed and drew readers in, so when I read a review for A PIECE OF THE WORLD, I was ready to tackle another of her stories.
In this title, she has found, not only a worthy subject, but she also captured the character's voice to perfection. Anna Christina Olson spent her entire life on a Maine farm that had been in her mother's family for generations, and she is middle-aged, living a solitary life with her brother, when young artist Andrew Wyeth meets the pair. Over several years, Andrew paints their farm and the reclusive pair, but the painting that is most well known is of Anna alone. Entitled
Christina's World
, Wyeth shows a younger Christina on a golden grassy field with the family house a distance away. Only careful observation reveals a dogged determination across the woman's far, the tense grip of her hands, and the odd angle of her super thin legs. Then comes the realization that Christina is crippled (language of the time) and dragging herself across the field is her mode of transportation.
,
A PIECE OF THE WORLD takes us in to Christina's world, one dominated by her parents and her undiagnosed, untreated illness. As I have already said, Kline gives Christina a scrappy voice that will make readers both sympathetic and frustrated with the central character. Year by year, event by event, her body becomes more fragile, making her more separated from all life beyond the farm, until the decaying house, her dwindling family, and the shabby farm are indeed CHRISTINA'S WORLD. I can't wait for the next morsel of history that Baker-Kline can find and then with her diligent research and talented pen brings to life.