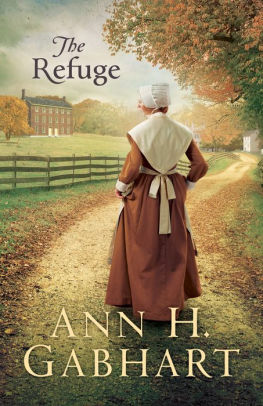 THE REFUGE by Ann H. Gabhart is the first novel I've read set in a Shaker community. When cholera swept the rural area Darcie and Walter Goodwin lived, they decided to flee their small farm and seek shelter in the Shaker village which seemed to be unaffected by the disease. If you know the history and basic beliefs of the Shaker communities, you realize that they lived as brothers and sisters, sharing in all the work and blessings. Marriage was not allowed, and even previously married couples like Darcie and Walter were expected to live separately while with the group.
Both Darcie and her husband know they will never be able to fully accept the beliefs of this group and abandon their loving marriage. Then Walter is killed in a freak accident, Darcie finds herself pregnant, and without money or another home, forcing her to continue at Harmony Hill.
Meanwhile, Flynn Keller realizes he and his aging father-in-law cannot handle his rambunctious young daughter alone after his wife's death. He knows that others have sent their children to the Shaker village for schooling, but it would mean leaving her there for weeks or months. Can he do that? Will she feel she has been rejected by those who love her most?
Ann H. Gabbart's characters are always so well developed. Years after reading, ANGEL SISTER and the other novels that followed in that series, the books remain among my favorites, simply because I remember the characters. Since I am not a huge fan of the Amish/Mennonite style romances, I was not too sure about this novel. But the relationships between the "sisters" of the group was so well drawn that I soon found myself fully drawn into the story. As I finished the book, I realized there are enough loose ends left with minor characters that their stories will shine in future Harmony Hill books. Plus I just realized that this book is book 8 of her Shaker stories, not book one. I received a copy of this novel from Netgalley. All opinions are mine.